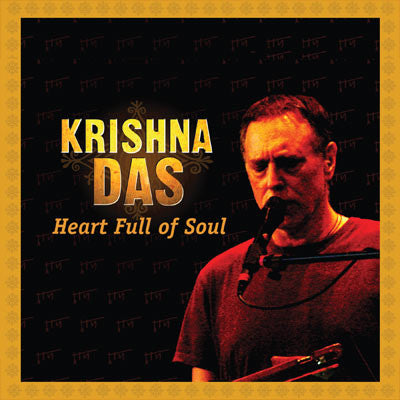 Heart Full of Soul
Night after night, in ashrams and temples, cavernous cathedrals, and modest community theaters around the world, Krishna Das sits down behind his harmonium, flanked by his band of supporting musicians, greets the crowd that has gathered to sing, closes his eyes, and begins. And with his opening Om, everyone in the room sets off together on a priceless evening's journey along the path of devotion. 
Heart Full of Soul is a double-album of just such an evening and just such a journey. It is rich with the burnished treasure of the Divine Name, passed back and forth, back and forth between KD and the audience, as they travel together the varied terrain of the heart: from the funky rhythms of "Radhe Radhe Shyam" through the intense longing of "All One (Hare Krishna)" and the balm of "Jaya Bhagavan," and ending with KD's joyous version of the gospel classic, "Jesus on the Main Line." 
This is not a single night's performance caught in amber, but a gift that's fresh with each listening, drawing us in to join in with Krishna Das in the compelling practice of namakirtan over and over, again and again, whoever and wherever we happen to be. 
TRACKSDISC ONE
Hanuman Prayer (3:42)
Shri Ram Jai Ram Jai Jai Ram (21:57)
Om Namoh Bhagavate Vasudevaya (16:07)
Govinda Hare Gopala Hare (8:48)
Devakinandan Gopala (7:22)
Radhe Radhe Shyam (10:59)
DISC TWO
Goddess Prayer (11:59)
Jaya Jagatambe Ma Durga (9:58)
All One (Hare Krishna) (22:56)
Om Namah Shivaya (13:29)
Jaya Bhagavan (live) (6:54)
Jesus on the Main Line (6:33)
 Release Date: 2008 
Please Note: For MP3- iPhone and iPad users: iOS will NOT allow you to download these files directly. You must first download on to your computer, and then transfer them to your mobile device. This digital item is not eligible for return or refund.
---