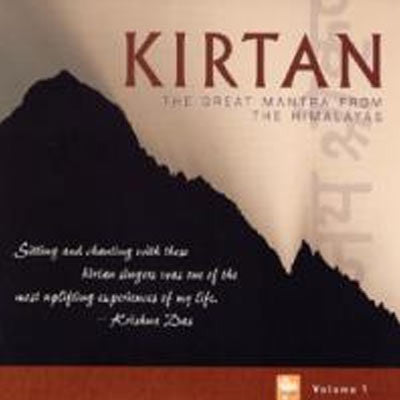 Kirtan: The Great Mantra from the Himalayas
Regular price
$ 15.00
Sale price
$ 5.00
---
Temple speakers crackle on in the chilly pre-dawn darkness, in this beautiful little compound folded into a misty valley in the Himalayan foothills. As fragrant, resinous smoke rises from a brazier of coals and devotees bundled in shawls offer their early morning prayers, the voices and simple instruments of the kirtan wallas permeate the scene with love and longing for the Divine. "Hare Krishna Hare Krishna Krishna Krishna Hare Hare Hare Rama Hare Rama Rama Rama Hare Hare": the mantra arises out of the devotion of the temple morning and simultaneously falls on it like a benediction, continuing through the day and well into the evening, day after day, week after week, year after year.

This CD was created from field recordings of various kirtan wallas, taped by Krishna Das and Raghu Mitchell Markus some years ago for their own personal use. The sound of those original tapes has been cleaned up-no crackling speakers here!-but nothing has been added or changed. So when you press play, the heartful blessing of the Great Mantra will reach your ears intact, just as it was and is sung in the temple.
*Please note: This CD comes without liner notes or case, blank CD sleeve/case. The mantras are just as sweet, just with less packaging. 
TRACKS
Maha Mantra 1 (20:34)

Maha Mantra 2 (15:52)

Maha Mantra 3 (18:32)

Maha Mantra

 4 (15:05)
Release Date: 2004
Please Note: For MP3- iPhone and iPad users: iOS will NOT allow you to download these files directly. You must first download on to your computer, and then transfer them to your mobile device. This digital item is not eligible for return or refund.

---