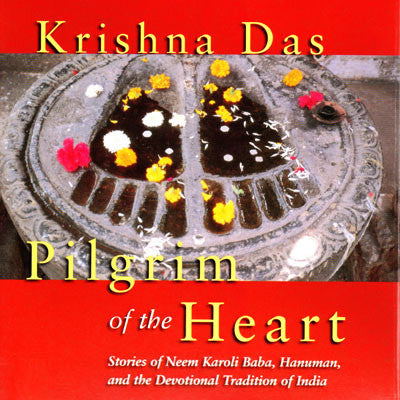 Pilgrim of the Heart (MP3)
Stories of Neem Karoli Baba, Hanuman, and the Devotional Tradition of India.

Bhakti Yoga is the path of loving devotion-the total surrender of all our acts, thoughts, and emotions to the heart of the divine. Through his albums and performances, world-music legend, Krishna Das has used Indian devotional chant to bring this path to thousands of listeners. On Pilgrim of the Heart, Krishna Das tells the story of his life, offering it as both a memoir and a metaphor for all of us seeking to follow this ecstatic way of the heart. 

Krishna Das begins by taking us back to the winter of 1968, on a road trip through a harrowing New York blizzard in search of Ram Dass. From there, we follow him into the jungles and ashrams of India … meet his unforgettable teacher Neem Karoli Baba … open our eyes to Hanuman, the sacred embodiment of compassion and grace … and gain the opportunity to join Krishna Das and friends in a series of uplifting chants from the bhakti tradition. Pilgrim of the Heart is an intimate meeting with one of the world's great living masters of devotional singing-and an invitation into the infinite yoga of faith, compassion, and surrender. 

MP3 Running time 3 hours
TRACKS
DISC ONE:

Introduction (0:37)
Chanting the divine names (5:22)
God is running after us (3:11)
Falling in love with who we are (3:15)
The natural unfolding of the heart (5:02)
Faith, the guru, surrender, and grace (2:56)
Meeting Ram Dass (8:00)
The beginning of faith (10:27)
Chant: Shri Ram (5:35)
Waking up (4:14)
To lose one's self in love (8:31)
Your life as your teacher (6:43)
Feeding our own hearts (10:59)
DISC TWO:

Introduction (0:42)
Drawn toward chant (7:10)
Chant: Jaya Jagatambe (9:46)
Hanuman: the monkey god (5:51)
Chant: Baba Hanuman (4:15)
Searching for Neem Karoli Baba (6:26)
Meeting Maharaj-ji (12:02)
Stories of Maharaj-ji (6:21)
Too much compassion (14:19)
DISC THREE:
Introduction (0:48)

Burning with longing fire (7:32)
Leaving India (5:07)
Chant: Jaya Bhagavan (2:22)
The path of the heart (7:05)
Finding courage (6:45)
Grace is the unseen hand (7:34)
The absolute power of love (2:17)
Chant: Om Namah Shivaya (10:40)
Release Date: 2001 


Please Note: For MP3- iPhone and iPad users: iOS will NOT allow you to download these files directly. You must first download on to your computer, and then transfer them to your mobile device. This digital item is not eligible for return or refund.
---