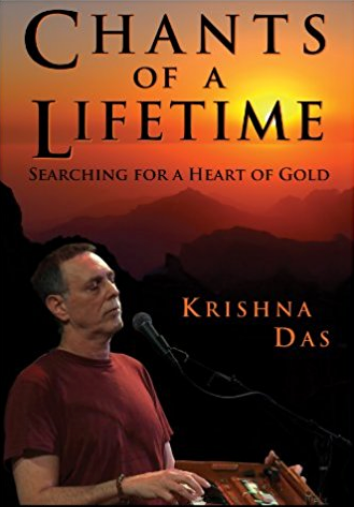 Chants of a Lifetime
Chants of a Lifetime offers an intimate collection of stories, teachings, and insights from Krishna Das, who has been called "the chant master of American yoga" by the New York Times. Since 1994, the sound of his voice singing traditional Indian chants with a Western flavor has brought the spiritual experience of chanting to audiences all over the world. He has previously shared some of his spiritual journey through talks and workshops, but now he offers a unique book-and-audio download combination that explores his fascinating path and creates an opportunity for just about anyone to experience chanting in a unique and special way. 

Chants of a Lifetime includes photos from Krishna Das' years in India and also from his life as a kirtan leader—and the Audio Download that is offered exclusively in the book consists of a number of "private" chanting sessions with the author. Instead of being performances of chants for listening, the recordings make it seem as if Krishna Das himself is present for a one-on-one chanting session. The idea is for the listener to explore his or her own practice of chanting and develop a deepening connection with the entire chanting experience. 
Audiobook available on Amazon* --->  https://amzn.to/35knfNF
E-book available on Amazon* ---> https://amzn.to/3mycUUp 
Praise for Chants of a Lifetime - 

"In Chants of a Lifetime, Krishna Das opens a door to a world of boundless love. This is a book about a real and transformational path—including all of life's challenges, inspiration, and uncertainty. It serves as an invitation to unwavering happiness." 
— Sharon Salzberg, the author of Lovingkindness: The Revolutionary Art of Happiness 

"Knowing the sweet power and depth of Krishna Das's singing, I was delighted to see, in this honest testament, how he got there. This book shows how Kirtan (singing the names of God) enters into our spiritual heart and then lights it up." 
— Ram Dass, the author of Be Here Now 

"Like a night of ecstatic chanting, this book throws open the doors of the heart. Krishna Das writes like he sings: with earthy, quirky, luminous clarity. Chants of a Lifetime is a reminder that simply uttering any of the many names of the Beloved has the power to free us from ourselves and make of our hearts an offering to the One. May we never again forget. May we never stop singing." 
— Mirabai Starr, the author of new translations of John of the Cross and Teresa of Avila Free 
Audio Download TRACKS included with the book: 
Baba Hanumanji (14:43)

Sita Ram (16:48)

Pahari Walla Mahamantra (3:39)

The Durga Waltz (9:53)

Hallelujah Sri Ram Jai Ram (16:02)


Paperback w/Audio Download -Release Date: 2018 
Audiobook - Release Date: 2021
Hardcover - Release Date: 2010 
*By purchasing on Amazon via the link listed above, we may earn a small commission for connecting you to their website. Please feel free to get the product wherever best suits you.