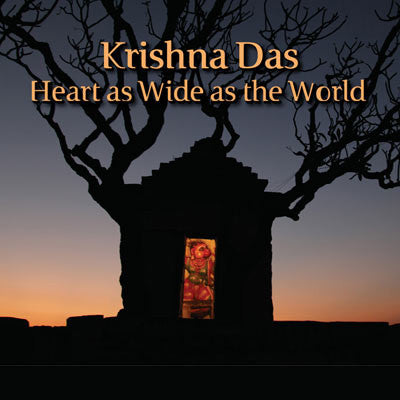 Heart as Wide as the World
"Growing up with rock 'n' roll, it has always been important to me emotionally. Rock music got me through so many dark places in my life and has brought so much joy to me and those in my generation that in some ways it has been sitting inside of me waiting to find a way out. Over the years the role of music in my life has changed. It is no longer only a way to escape from the world and into a temporary peaceful or joyful place; or a way to get some message across to others, but it has become a vehicle for carrying me into a deeper place in my own heart...a place that is more real than who I know myself to be most of the time. So I am very happy that the chants have manifested in this way; in this musical form. It's an opportunity to honor the music that has brought so much to my life. 
I want to thank all the wonderful musicians who played on this project. This is the first CD since "Pilgrim Heart" that was recorded entirely in the studio and not done as a live recording. There is no way it could have manifested if not for the dedication and talent of all the people involved, and no one more so than David "Nudgie Narayana" Nichtern, who played guitar, produced, and lovingly 'nudgef' the music out of me and into the world. Also love and thanks to Sharon Salzberg for her inspiration and blessing to use the title of her book, "A Heart As Wide as the World" as the title of this CD and one of the songs. 
This album is an offering to the One Love that lives within all of us. 
If a child is sick and needs to take medicine, we hide the medicine in sweet syrup. In the syrup of this music, the medicine of the name is hidden. The benefit of the syrup is that its sweetness gives pleasure. The benefit of the medicine is that it cures us of our sickness and suffering. The Name, or Naam, as it is called in Sanskrit, is the medicine that will cure us of our unhappiness and suffering. For us these names may appear to be sounds that have no meaning in our language but the path to our true Self and to Real Love is mystically contained within them. The great beings say that through the repetition of the Name, gradually but inevitably, the Loving Presence that is hidden in our own hearts is uncovered and discovered to be our own Self...our own true nature. But we have to develop a taste for the Name...and this comes through practice. 
As we chant, we feel a happiness that is different from the usual kinds of happiness that we experience in our daily lives. At first, it is impossible to sustain this, but little by little we crave that joy and the release it brings from our anxieties and worries...and what started out as intermittent moments of peace become a new way of living in the world; a way that is filled with Love and Peace...and after all, "What's so funny about Peace, Love, and Understanding?" 
All Love, 
Krishna Das" 
TRACKS:
My Foolish Heart / Bhaja Govinda (9:41)

Narayana / For Your Love (10:00)

Hallelujah Shri Ram (14:22)

Heart as Wide as the World / Shri Ram Jai Ram (8:21)

Shiva Puja & Chant (12:24)

Sitaram (11:07) 

By Your Grace / Jai Gurudev (7:17)
Release date: 2010 
Please Note: For MP3- iPhone and iPad users: iOS will NOT allow you to download these files directly. You must first download on to your computer, and then transfer them to your mobile device. This digital item is not eligible for return or refund.