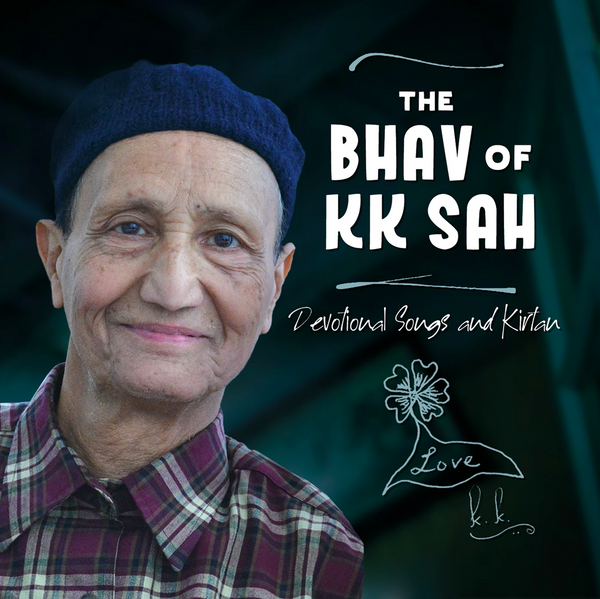 The Bhav of KK
This music is an echo and pure reflection of KK's deep devotional love and reverence for the Divine. In the wake of KK's passing in early 2020, we are honored to share this record and it's powerful transmission of devotion.
The Bhav of KK Sah was recorded in New York City, where we felt called upon to capture KK's outflow of love and devotion. For the first time ever, KK played an electronic keyboard, accompanied by the two of us on vocals and drums. May it's magic transform you as it has for so many of us, who have had the opportunity to experience the Bhav of KK Sah.
Namaste,
Krishna Das & Raghu Markus
About KK Sah
K.K. Sah was a lifelong devotee of Maharaj-ji and a close family friend of Ram Dass since he first met Maharaj-ji in 1967. It was K.K. who served as Ram Dass' translator when he communicated with Maharaj-ji, and took Ram Dass into his home and introduced him to Indian family life.

K.K. passed away at his home in the town of Nainital in Northern India on January 14th, 2020. We are eternally grateful to K.K. for being a living example of unconditional love and devotion. He was a mentor, friend and brother to all.
He is also the author of the book Divine Reality.
TRACKS
1. Shree Ram Jaya Raam (12:30)
2. Radha Ramana Hari (12:02)
3. Meera Magan (6:30)
4. Jaya Govindam (6:50)
5. Bhajana Bina (4:07)
6. Shiva Shankara Hare (7:41)
7. Durgati Naashini (7:03)
8. Jaya Jagatambe (6:19)
9. Chaakar Raakho Ji (Meera bhajan) (6:25)
10. Shri Krishna Govinda Hare Murare (4:15)
11. Tumako Mere Laaj Radhubeer (5:30)

Release Date: 2021
Please note: 
For MP3 Download- iPhone and iPad users: please note that iOS will NOT allow you to download these files directly. You must first download and install on your computer, and then transfer them to your mobile device.
This digital item is not eligible for return or refund.